Adult Tennis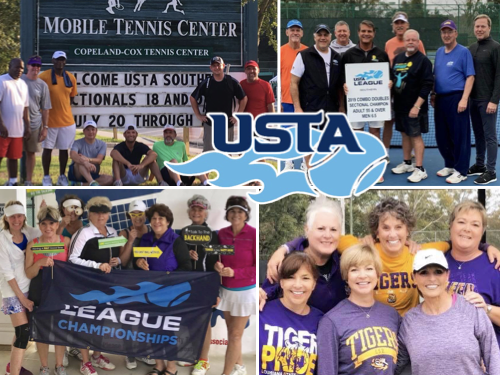 There are a wide variety of tennis programs for adults in the Shreveport-Bossier area.  Follow these links to learn about them:
•
New to tennis? (helpful tips for using USTA.com and TennisLink)
•
USTA Adult Leagues
• 
2021 USTA Adult League Updates
•
Local Adult League Regulations
•
USTA Combo Leagues
•
USTA Flex Leagues
•
USTA Mixed-Level Leagues
•
USTA Tri-Level Leagues
•
Facility Social Leagues
---
With more than 300,000 players taking part each year, USTA League is the country's largest adult competitive tennis league. It's a great way to stay active, improve your tennis game, and have the chance to compete for a National Championship. If you love tennis, you'll love USTA League and being part of a team.
League play starts at the local level for players 18-and-over, and are largely organized according to the National Tennis Rating Program (NTRP) by age group. Top teams from local leagues earn the chance to compete in district and/or sectional championships, while the winners of sectionals  advance to USTA League National Championships.
League offerings can vary across the country. USTA sections may also offer other programs, which include combo leagues, grouping players of different NTRP levels in doubles; tri-level leagues, with three lines of different NTRP levels; and leagues just for those aged 18-39.
Tennis Apprentice is the largest beginner adult tennis program in the South! It started as an idea from Liz Azcona Metrailer, Director of Marketing with the Louisiana Tennis Association (LTA). The program is designed to introduce tennis to adults (18 & over). Hundreds of adult beginners have participated in these programs all over the state.  We invite you to step out on the tennis courts!
If you are a player who would like to participate in league and would like to find and register for a league team in the Shreveport-Bossier area click here to fill out a form where captains will be alerted to your availability.